Best Film of 2016
Reviewed by Mason Manuel
(Editor's Note:The following is an advance review. Access to this film was provided by the Middleburg Film Festival. RDR would like to thank the Middleburg Film committee for their generosity and look forward to working with them again!)
I am calling it now. Damien Chazelle once again shows that he is worthy of an Oscar with this brilliant tribute to jazz and the history of film making. La La Land is one of those films you see once in a generation, both challenging and showing great love for the status quo of film and music today. It never forgets that at the end of the day art is something to be expressed and criticized while still being loved. Pair that off with an addictive soundtrack and you have yourself one hell of a motion picture.
Beginning in a chilling Los Angeles winter of 95 degrees, La La Land immediately sets itself apart by finding beauty where it has no right to be. A upbeat musical number shot in the middle of a traffic jam sounds like a terrible idea but the catchy tune "Another Day of Song" is incredibly hard to dislike and the usage of color and fun makes it damn near impossible. This scene also possesses one of the most impressive one shots I have seen since The Revenant, made all the more amazing due to the beautiful chaos Chazelle is capturing.  From this astounding opening we are introduced to Sebastian (Ryan Gosling) and Mia (Emma Stone). Sebastian is a down on his luck musician trying desperately to save the art of Jazz and eventually open up his own club. Mia is a down on her luck actress who feels like she can't get a leg up. Boy meets girl and they work together to try and help achieve each other's dream. Not a unique plot by any means but it never feels cliché. Gosling and Stone show off their fantastic chemistry once again, being goofy with a dash of heartbreak every time. Their characters both have obvious love for their passions and the actors harp on it in droves without ever becoming eye roll worthy.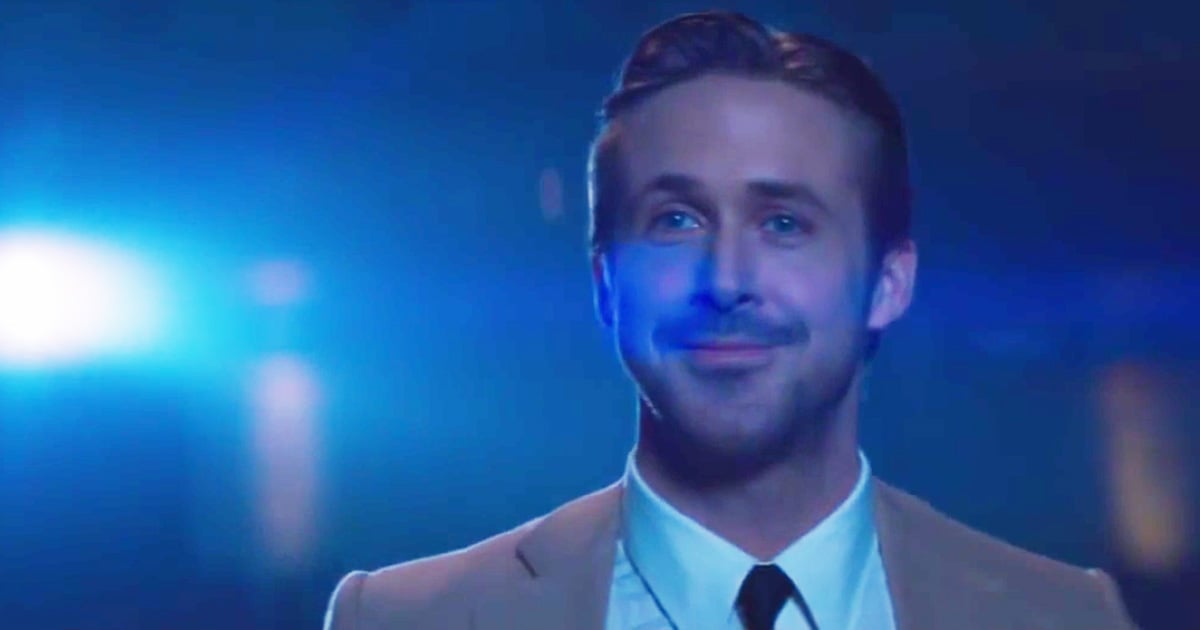 Visually so much of old meets new that it's almost difficult to tell when the movie was made. Obvious references to Singin' in the Rain and The Great Gatsby somehow mesh perfectly with modern jazz clubs and an urban decayed L.A. Most of the shots that blew me away were sadly already teased in the trailers, like dancing among the stars and running through a Monet painting, but that makes them no less impressive. Vibrant use of color is meshed against the dull grey of cracked freeways and shady bars to show that beauty can be found anywhere as long as you bring it. But I can hear you movie nerds asking "What about the music?" Well I can wholeheartedly say that this movie had me wanting to dance in the aisles. The music composed by the talented Justin Hurwitz is an instant earworm and will be stuck in your head for days after playing.
The singing is pretty on point too. Though Emma Stone does not have the most extraordinary voice I have heard, she by no means does a poor job and has many an enjoyable moment. Ryan Gosling on the other hand is the only bone I have to pick with this picture. Much like shoving Russell Crowe into Les Misérables, it feels like he is here for his acting chops and was forced to sing because the character demanded it. To his credit he is forced to be compared against more tried and true singers, but his solo pieces feel mostly out of place. He does however have some fantastic piano solos that I originally thought were dubbed over with a professional pianist but apparently are played by him and him alone so I grant him props for his musical talent there.
La La Land is the number one film of 2016, no doubt about it. Never have I felt so much joy and pain in a single film I have seen this year. The stunning visuals and fun music will leave you hungry for more of this team. Expert casting mixed with a similarly talented director and composer make La La Land an incredible piece of art that you cannot afford to miss. RDR gives it a 9.7 out of 10.